Sealing Heads
For the Datz Sealing machines there are a number of matching sealing heads, which can be used flexibly in the production process as required:

Sealing head VD 4 with special form for the vino-lock closure
Top-Cap
Stelvin-Lux closure
Sealing heads for long caps and others
Sealing heads with hysteresis clutch for plastic caps
Sealing head for twist-off-caps
Sealing head for champagne bottles
Press-on sealing head with and without pourer
Special heads for individual requirements

Sealing head VD 4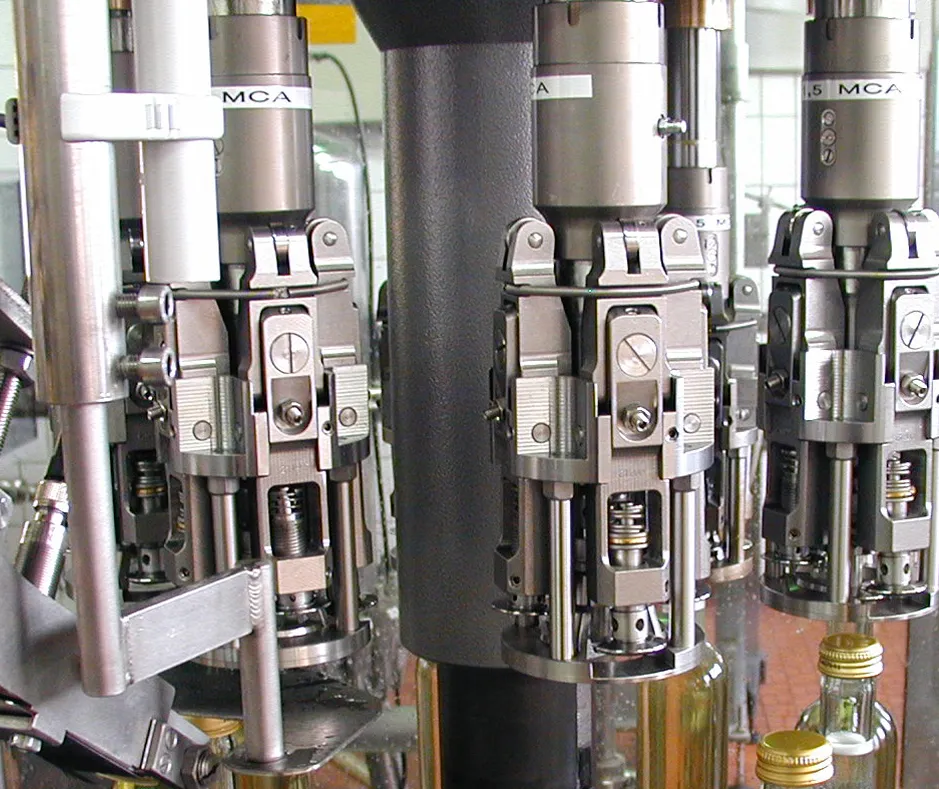 The VD 4 head can be used for all common
aluminium closures
with or without safety ring.
For the new Vino-Lock closure the Dr. Datz Company has created a special design. Only provided with flanging rolls, this sealing head offers an optional sealing operation.
Advantages of this VD 4 sealing head:
Wear resistant materials for the flanging and edging rolls
Integration in existing machines with the help of an adapter
Low wear and tear because of robust constuction of all essential parts
The VD 4 sealing head is successfully used for many years in the beverage industry..
Top-Cap Sealing machine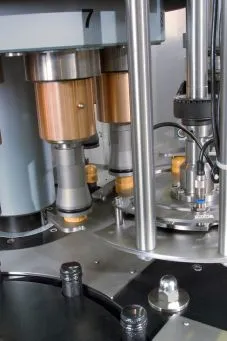 The closure can be towed with the bottle or taken along by a pick-up star from the print head.
The top-cap sealing head is distinguished as follows:
maintenance free

simple construction

adjustable pressure

exchangeable cone


all essential parts are manufactured in stainless steel
pressure capper
Stelvin Lux Closure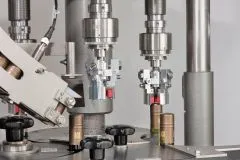 The Selvin-Lux closure is an aroma preserving aluminium roll-on closure for wine bottles.
First the internally plastic thread is being closed, then the metal closure without thread is being flanged.


Sealing heads for long caps and other closures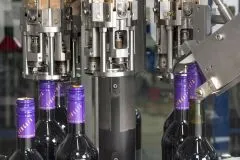 These sealing heads work
fully automatically
and are for small series and mass series.
There are no long set-up times
.
This guarantees a high flexibility and economics in the production process.

The cap is pressed from above on the sealing surface and then laterally rolled on the thread of the wine bottle.



Sealing head with hysteresis clutch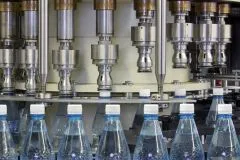 The essential characteristics are :
Sealing head with hysteresis clutch

Exchangeable sealing elements

Hight adjustable pick station

Suitable for glass and PET bottles

Used for plastic caps

The hysteresis clutch guarantees a
constant
torque in the sealing head.
Thereby a high accuracy is achieved by the sealing process. Crooked closures are avoided.
Other advantages:
The torque can be adjusted on the machine .

All parts of the sealing head are made of stainless steel

Capacity up to 45.000 bottles per hour.
Handle cork closing unit


The closing unit is used for processing handle corks. Due to the high positioning accuracy by means of the servo technology, all closures are optimally guided into the bottle mouth .

The closing unit can be adapted to all types of closures .



The pressure to press in the handle corks is adjusted according to customer needs.
By manufacturing hardened components, the sealing unit has very low maintenance and wear .
Quality
... is our engagement.

Many talk about quality, we live for it!
Quality is evident when it comes to the permanent practical operation of a machine.
Dr. Datz machines are very robust. Many of our machines are meanwhile more than 40 years in use. Therefore we have all kinds of spare parts on stock. .
Through this continuity within the production offer, the machines reach an extraordinary economic level.
How is this high quality achieved?
We use seal-free material with high strength.
Almost all materials are hardened.
The surfaces are specialy treated .
All parts that get in touch with water are made of stainles steel.
>>Contact us here. We are happy to help!<<